Day 1 Winner of
Ring of Secrets
is:
Bonnie Roof!
If that's not you, no worries! Your name's still in the hat for today--and you can enter everything again! Plus, the whole week's entries will be eligible for the $15 Bath & Body gift card. The form is still at the bottom of the post.
I had a blast yesterday reading some of the creative nicknames you guys have gained over the years. =) Mine of "Boat" came about like this: Roseanna Banana...became Banana Boat...became Boat. My sister also dubbed me "Pooky" in high school, and her kids now call me "Aunt Pooky." That one's pretty special too. ;-)
Now, for those of you new to Writing Roseanna, I usually take Tuesdays off. BUT, whenever I have a book review to post, that goes up on Tuesdays. Used to be called Story Time Tuesdays, back when I actually read a book a week. These days... ;-)
But as it happens, I do have a few book reviews that need posted on here anyway, so you're in luck! Today is one of my all-time favorites, a young adult novel by my best friend and critique partner, Stephanie Morrill. I posted a bit about it when the book came out, but not a full review. Here it is, complete with links to Amazon and Smashwords.
And in case I don't stress it enough in the review itself: THIS BOOK IS AWESOME. As in, awesome. I've read it a gazillion times and loved it more each time through--which is saying something. Buy it for your teens, buy it for yourself, doesn't matter. It's just too amazing to pass up!
The Revised Life of Ellie Sweet
by Stephanie Morrill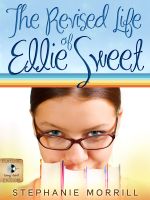 Out of five stars, I give this book a seven. Maybe an eight.

Stephanie Morrill has an amazing way of breathing life and sass into her teen characters, of creating a world and a life that I not only click with, but which feels like MY world. That's exactly the feeling I got as I read THE REVISED LIFE OF ELLIE SWEET.

I love this book. I love Ellie. I love Palmer and Chase and the cast of snippy friends, I love the family that stood behind her when it mattered, I love the dreams and crushed hopes and sometimes-cruel reality that made her grow into a person I could love even more.

This is a book I would recommend over and again. Definitely for any teens out there, who will fall in love with Ellie...and Palmer...and Chase. And also for any adults who know what it is to chase a dream. This is seriously one of my most favorite books ever, of any genre. Ellie Sweet is my new best friend--I can't wait to see more of her in the sequel!
Buy the Paperback
Buy for Kindle
Buy for all other devices
My question of the day to you is:
What's the best book you've read so far in 2013?
(Quick note on the technical side of the giveaway--I'm using the same widget for one week, so entering on Monday could win you a book on, say, Thursday. This is so the whole week's entries are good for the bonus prize [this week's being that $15 gift card to Bath & Body Works]. After I do that drawing, I'll start with a fresh widget for next week though.
Capice
?)
a Rafflecopter giveaway