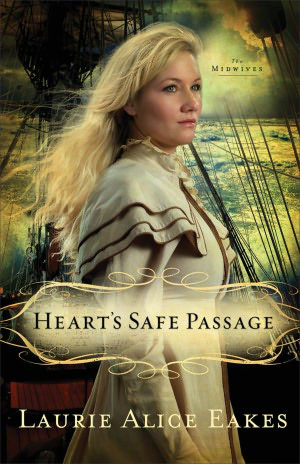 Swoon-Worthy Historical Romantic Suspense!
I admit it--I love a reprobate of a hero whose journey includes redeeming him. I love a heroine who falls for him knowing it'll lead to heartbreak. I love a couple at cross-purposes who must find the will of the Lord in the tangle of their own webs. And I love, love, love stories with a backdrop of intrigue and adventure. So it's no great surprise that
Heart's Safe Passage
took my breath away.
Phoebe may have been a pampered gentlewoman earlier in life, but after tragedy, scandal, and disappointment, she's determined to forge her own independence through midwifery. But when her sister-in-law has a crew of British privateers kidnap her so she'll travel with the pregnant woman to England to rescue her captured husband, Phoebe finds her determination matched--by the heartless yet compelling captain Raphael Doherty, who has far more secrets than any Virginian lady could possibly understand. Drawn to her though he may be, he cannot give up his quest for vengeance, even if it means refusing an all-consuming love. How, after all, could he live with himself if he lets go of the one thing that has given him purpose? Both Phoebe and Rafe must face their demons . . . or be consumed by them.
Heart's Safe Passage
has an amazing setting, with non-stop action on the high seas. It has a fantastic premise of betrayal and treachery and redemption with a backdrop of the War of 1812. But what I absolutely adored about it was the compelling, believable love story. I'm not always convinced by stories of love that take place in a short amount of time, but I found this one not only believable but heart-wrenching. Eakes does a superb job of painting characters so very troubled, so very flawed, but so very needful of what the other can offer. Their love is quick, bright, but known by both to be less than enough to overcome all that is against them. Only love of the Lord can achieve healing like that.
This one goes on my favorites shelf with Laurie Alice Eakes's other books!