I have had so little time to read lately . . . yet the awesome books keep arriving. =) Yesterday 9 showed up in the mail, for instance. Most of these will go be put on the list of books available for the Christian Review of Books reviewers, but whenever one comes in that I want to read, I snatch it. ;-)
So I thought today I'd just share my immediate to-be-read pile.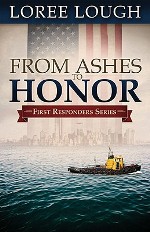 First we've got From Ashes to Honor by Loree Lough, the first book in her First Responders Series. (Okay, too many "first"s in one sentence, LOL.) This series is in honor of the heroes who rode in to the rescue on 9/11 and debuts now in time for the 10th anniversary of that horrific day.
Next up is To Die For by Sandra Byrd. This is a story of Anne Boleyn, but from the perspective of a lady-in-waiting. Gotta love Tudor books!!! And come on, that cover . . . oh yeah. I want those dresses. ;-)
Also earning a spot in my pile is Jamie Carie's Pirate of My Heart. I mean, come on--doesn't the title itself just say, "Read me! I'm packed with adventure and romance!!" A young noblewoman flees her overbearing guardian, determined to make it to America and some distant relatives. But is American Captain Dorian Colburn capable of saving her from the darkness around her?
The Colonel's Lady by Laura Franz is one I just can't wait to dig into. I recently read Courting Morrow Little by Laura, and WOW. Yep. So I know this one will be awesome. In it, genteel Virginian Roxanna Rowan travels to a Kentucky fort to reunite with her father, only to discover he's been killed. Without the means to go home again, she is forced to stay at the fort . . . under the protection of the fiery Colonel McLinn.
I've read the first two books in Sarah Sundin's Wings of Glory series, so I'm excited about the final installment, Blue Skies Tomorrow. This one follows the other Novak brother, Raymond, and heart-soar widow Helen Carlisle. When they discover a fragile love between them, can they still step out in faith and up to a challenge, willing to wait until blue skies return?
And for a little something different, I snagged mainstream thrilled The Genesis Key from the pile of incoming books. This just sounds soooooo good. Dr. Kathleen Sainsbury's on the verge of breakthrough--the discovery of a gene that could extend human life by centuries. But suddenly Kathleen is a target of covert government operatives, and she's forced onto a quest to uncover the real reason behind her parents' deaths, the mysteries of the human genome, and the secrets long held in the Book of Genesis.
So I've got some great reading ahead of me, if ever I have the time. ;-)