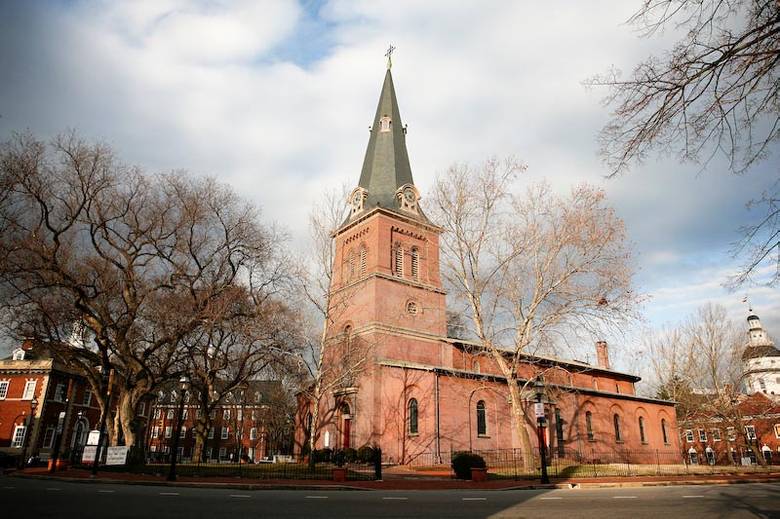 So part of my Annapolis research involves the church my characters would have attended. There really isn't a whole lot of choice there--only one church existed in Annapolis at the time, and it was St. Anne's Episcopal. Very excited about that, my friend Kimberly and I went into the church last week, grabbed the historical brochure they have, and chatted with a few of the ladies preparing it for Christmas while we let our jaws drop at the glorious stained glass and majestic pipe organ.
Then, of course, we learned that the current building was actually the third St. Anne's Church to stand on the spot. Naturally, I needed the second. But I saw that the brochure had info on it, so I just tucked it away and enjoyed the building there now. It's truly lovely, and we enjoyed our ten minutes looking around the sanctuary.
Yesterday I finally read the brochure. I learned that right before the Revolution, it was decided that the first St. Anne's was far too small, so they tore it down to build a new one. Only, you know, war broke out. The materials got used for a fort instead (sheesh, what priorities;-). So where, you wonder, did the church meet, since the old one was already demolished?
For a while, at King William's School, which later became my alma mater, St. John's College. (Go, SJC!) But they outgrew that too, and moved to . . . the theater on West Street.
This made me grin, because I'd already discovered that a new theater was erected about a decade before drama was banned during the war. What, I had wondered, did they do with the building? Well, there's my answer. It got to be the church! Apparently for quite a while, since the second St. Anne's wasn't finished until 1792. That's nearly ten years when Church Circle sat without a church inside!
And boy am I glad I bothered to read that brochure, otherwise I would have had my heroine walking to said Church Circle instead of West Street here in a few days . . . ah, research. The things we discover. ;-)