First, don't forget to enter my TITLE CONTEST! See Monday's entry for details and a chance to win some awesome books. Now, on to new thing.
My week has been full of new things, actually. . . and hence getting the hang of them. Particularly the laptop, which can go to the couch with me in the evenings--my usual reading time. So I'm still reading the (very good!)
Prisoner of Versailles
I wrote about last week, and I haven't gotten far enough to offer more on it.
So this week I'm going back to an
awesome
book I read a couple months ago. Marlo Schalesky's
Beyond the Night
is a fabulous love story, evocative and heart-wrenching. This is one of those rare books that brings tears to my eyes,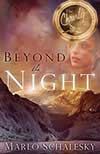 and when I turned the last page, I immediately went and told everyone I know that they HAD to read it.
The story begins with a car crash, and the rest of it is a combination of a hospital scene and memories of the couple's love story. Madison Foster knew she was going blind, but dealing with it was another matter. She above all didn't want her mother to find out--and she didn't want the pity of her best friend, Paul. Maybe romance had been about to bloom, but now they'd never know. Because she wasn't going to do that to him. And he didn't know how to fight her about it.
I love the way the past was interwoven with the present in this book, and especially the huge twist that I obviously won't give away--the one that had me crying.
I didn't know when I picked it up what I'd think about it. Stories set in the '70s don't usually do it for me, since it's from that era just before I existed--not long enough past to seem mysterious or whimsical, not familiar enough to feel like "home"--but from the first pages, I couldn't put it down.
Beyond the Night
is one of those stories that deserves every bit of acclaim it can get, (like the Christy award it just won--woo hoo! Congrats, Marlo!) and then some. This is a fabulous book, well told and beautiful. It'll leave you with tears in your eyes and a band around your chest that makes you think, "Wow.
That
is love."